Satguru Swami Sarvanand Ji Maharaj
Religious Preacher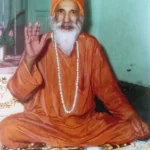 Swami Sarvanandji Maharaj was born and brought up in a spiritual environment amidst the love and devotion towards God. All his family were devotees. His father Bhakt Shri Shewakram, mother Shrimati Ishwarbai, grandparents Mata Krishna Devi & Bhakt Chellaramji, and Uncle Satguru Swami Teoonramji Maharaj. Swamiji was born according to the Hindu calendar in Samvat 1954 on the 14th of Ashwin month (Sindhi 12th of Asu Month) and in the year 1897 according to English calendar on a Thursday, near the holy river Sindhu in a village called Bhitshah and he was named "Siru".
Listening to of Satguru Swami Teoonramji Maharaj since childhood greatly influenced Swamiji and He gradually drifted away from the materialistic pleasures of the world. When He was nine years old, he requested Poojya Swami Teoonram to accept him as a disciple and grant him the sacred name. It took nine years of service, devotion, and perseverance after which Swamiji was granted the sacred name. Satguru Swami Teoonram kept his name as "Sarvanand". Swamiji wholeheartedly served his Guru and worshiped Satguru Teoonram as God. He tread on the teachings of his Guru and often went to places like the jungle and crematories to reflect on his master´s teachings and to meditate.
Since he highly revered Mata Ganga, he used to often take permission of his Gurudev to go to meditate in the holy land of Haridwar and in the dense forests of Rishikesh.
He practiced severe penance there by living alone in a small hut, constantly meditating, and eating only a single roti bread dipped in the holy Ganges once a day.
Whenever people praised His discourses, Swamiji would get overwhelmed and take out Satguru Swami Teoonram Maharaj's photo from his pocket and explained to everyone that this was all due to the blessings of his Satguru and it was all Satguru Swami Teoonram´s doing.
Swamiji dedicated his entire life to his Guru. When Satguru Swami Teoonramji Maharaj left for heavenly abode in 1942, Swami Sarvanand was enthroned as the Gadeshwar (spiritual head) of Prem Prakash Mandal. Swami Sarvanand followed the same principles of his Guru and spent his entire life spreading the teachings of Satguru Swami Teoonram Maharaj. He spread the fragrance of the "Satnam Sakhi" mantra across the world. He emphasized on the importance of the auspicious day, Saturday, to all Prem Prakashis. His staunch faith in Satguru Maharaj helped him overcome several obstacles during his tenure as a Gadeshwar. He used to always say that "Satguru Swami Teoonramji Maharaj is roaming around with his stick in hand".
After India gained its independence, Swamiji came to India and worked very hard to build Amrapur Darbar in Jaipur in the likeness of the temple in Tando Adam, Sindh. Swamiji put immense efforts and compiled the teachings of our Acharya Satguru Swami Teoonramji Maharaj to form the Prem Prakash Granth.
On July 21, 1977 Swamiji's light merged with his Satguru. His love, devotion, and faith will be remembered forever.