Acharya Satguru Swami Teoonram Ji Maharaj
Founder of Prem Prakash Mandal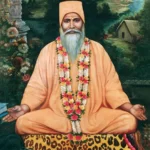 The purpose of this life story is to inspire us to tread on the spiritual path. Whenever people digress from righteousness and indulge in "Maya" or false illusions, God reincarnates on this earth in human form for man's salvation. Our Poojya Satguru Swami Teoonramji Maharaj was born on the 6th of July, 1887 in a small village of Sindh known as Khandu on the banks of the holy river Sindhu in the province of Sindh; a pious land of Saints.
Swamiji's parents, Shri Chellaramji and Mata Krishna Devi, were great devotees of the Lord. They spent their lives in the service of Saints and Sages who visited them. Divine discourses were conducted at their house on a daily basis.
Once a group of Saints from Haridwar and Rishikesh visited Khandu. Bhakt Chellaram cordially invited them to his house and lovingly served them. These Saints showered the nectar of their ambrosial divine discourses and devotional songs. Mata Krishna prayed to the Almighty Lord to grant her a child like these pious and celestial beings. She had heard previously that when God is pleased with one´s devotion and penance, He fulfills the wishes of his devotees. Therefore, she took permission from her husband and began fasting for 40 days. In due time, the celestial infant, Swami Teoonram, adorned her lap.
Infant Teoonram was very much like the sun; as with the rising of the sun, darkness is dispelled, flowers spread their fragrance and beautiful buds bloom in the garden, likewise upon looking at the celestial infant, members of the family, neighbors and relatives became resplendent and radiant with joy. The naming ceremony was performed on the sixth day and the infant was named Teoonram.
Since childhood, Mata Krishna Devi used to sing the dhuni of "Shivohum" to Swamiji. Swamiji grew up amidst religious surroundings. As a child, Swamiji was not interested in playing as most children did. He would call his friends and make them chant the name of God. Swami Teoonram was always serving the Saints who visited their home and neighborhood; this way he listened to their spiritual interactions and discussions.
When Swamiji was around 13-14 years old, Swami Assuramji Maharaj came to Khandu village as the headmaster of the school. One day while conducting a discourse at the house of Bhakt Chellaram, Swami Assuram explained the grandness of a Guru. He mentioned that it is essential to get initiated and follow a Guru; he explained that without a Guru it is not possible to attain self-realization in this human life. The following day Swamiji took mantra diksha from Satguru Swami Assuram ji Maharaj and made him his Guru.
At the age of 16, Swami Teoonram's revered father, Shri Chellaram, left his body for heavenly abode. Swamiji was then asked to look after the shop but Swamiji's mind increasingly moved away from materialistic pleasures and enthralled towards devotion. Although he was responsible for the shop, Swamiji used to entertain the saints when they visited the area. Swamiji used to ask customers to take the merchandise themselves then to place the money at the counter while He sat to engage in spiritual discussions with the saints. Swamiji was very merciful and therefore he first served the beggars and then attended to the customers. When Swamiji's elder brother, Bhai Tehelram, came to know about this he asked Swamiji to take care of the garden instead. Swamiji started singing devotional songs in the garden which attracted the workers; they felt helpless like the gopis did upon listening to the flute of Lord Krishna. The caretakers of the garden left their respective jobs and sat to listen to Swamiji. Thereafter, Swamiji was asked to take care of the farm. However, nothing seemed to engage him.
Swamiji conducted Satsang and dedicated his life to "seva" (service), "simran" (reflection) and meditation; many youngsters and muslims became followers of Swamiji. Swamiji faced many atrocities not only from the villagers but also learned men and Pandits, many of which were envious seeing the fame and popularity of Swamiji. These jealous people later became followers of Swamiji as they repented their ill deeds and upon seeing the miracles of Mother Nature. They realized that He was God Himself who had incarnated in their village for the welfare of mankind. The family also realized that Swamiji was an extraordinary soul whose purpose in life was to spread the devotion of the Lord to the masses.
Swamiji travelled from place to place spreading the teachings of "Sanatan Dharma" and one day while travelling with His disciples, He reached the vast sandy expanse of Tando Adam, which had a dense jungle on its other side. Swamiji decided that this place would be appropriate for establishing a center for the dissemination of Sanatan Dharma. Swamiji along with the Sages and devotees worked very hard to moisten the land with cow dung in order to prevent the sand from blowing. The Saints worked day and night to build a platform to conduct the discourses and fence the place. Despite several difficulties and opposition from various sects, 'Amrapur Asthaan' was built. This effort also protected the surrounding village from being enveloped by the blowing sand.
Swamiji formed the Prem Prakash Mandal with the principles of spreading of the vedic culture, awakening and sowing the seeds of devotion towards God, in the people´s mind, service to mankind irrespective of caste and creed, maintenance of religious unity and that of harmonious relations with every other religious sect.
​
Swamiji spent His entire life in the service of mankind and spreading the teachings of Sanatan Dharma. Although Swamiji did not receive any formal education, his poetic compositions reflect his infinite divine wisdom and high social contemplation. These are compiled in a large Granth of 800 pages of Sindhi and Hindi verses, known as the "Shri Prem Prakash Granth". Besides, Swamiji has also written the dialogue between Nachiketa and Yamraj", "Shikardwaj-Chudala", and many other epics in prose.
​
Poojya Satguru Swami Teoonram ji Maharaj left for His heavenly abode in 1942 on a Saturday in Hyderabad (Sindh) at Prem Prakash Ashram that was taken care of by Swami Madhavdas ji Maharaj. Upon hearing this news, many of his devotees came from all over Sindh and paid their respects to their true master. With the holy ashes of Swami Teoonram, a beautiful Samadhi was constructed in Tando Aadam.