Ram Panjwani
Sindhi Sufi Singer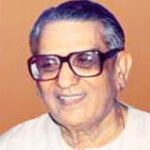 Struggling nations need strong personalities to look up for guidance. History discovers such personalities and they carry forward history along with them. History has many such entities but very few leave an indelible mark on it. The land of Sindh has been fortunate enough to produce stalwarts who have enhanced the glory of their motherland. Ram Panjwani is one of them.
November 20th 1911 is a red-letter day in the history of Sindhis because on this memorable day, a child by the immortal name of 'Ram' was born into the Zamindar family of Diwan Partabrai Panjwani in Larkana. By giving birth to Professor Ram Panjwani, the land of Sindh blessed itself with an exalted personage who sacrificed his youth the cause of the literature, culture and society of Sindhi people. He pursued hard, night and day behind his motive of preserving the heritage and spiritual life of Sindhis in a time of darkness and despair. His presence was as majestic as the Himalayas and as sustaining as the Sindhu.
He finished his matriculation at Larkana and was lucky to have the company of Sai Kishinchand (Bewas). The latter heard him singing the poem 'Sabh kan tunhji sarah' which pleased him greatly as it was penned by Kishinchand (Bewas) himself. Later on, Ram Panjwani became Sai Kishinchand's spiritual son. Sai Bewas used to say that Ram Panjwani would prove to be a voice of deaf 'Bewas'.
Ram Panjwani joined 'Chandka Amature Dramatic Society' which was founded by Sai Kishinchand (Bewas). Panjwani used to perform diverse characters on stage which made him an excellent artist. Panjwani always looked up to 'Bewas" for guidance in every field while 'Bewas' was more than willing to provide him with a helping hand through various fields of the artistic world.
He completed Law from the S. L. Shahani Law College in Sindh. After his LL.B., he did his Post Graduation in Law from the Pune University and began practice in India. The towering personality reveals that he has been a close confidante of the NCPSL Chairman – Human Resources Minister Arjun Singh and has the cause of the Sindhi Community at heart.
Panjwani had been a firebrand student leader and a charismatic orator in Sindhi Language during his college days. Then prior to partition he met the veteran Congressman Barrister Rajni Patel in Pune and joined the Quit India Movement against the British rule. Being a lawyer by profession, he was promptly arrested by the British and jailed for 4 years.
Ram Panjwani got himself admitted at D. J. Sindh College, Karachi for further education and he took active part in the cultural activities of the college. He was highly adept at oratory and once, when he was addressing a college gathering on the topic of 'Sai Bewas, A Person and his Poems', Prin. Butani was so much impressed with his thorough knowledge of the subject and style of presentation, that he decided then and there to offer Panjwani the post of lecturer at his college, once his studies were over. Prof. Panjwani was an eminent educationist, who retired as a Professor of Sindhi in Jai Hind College Mumbai.
Panjwani's meeting with Butani in 1929, changed his life forever and he describes it in these words, "Had I not been chosen by Butani I would have been nowhere".
Dada Panjwani had utmost love and respect for Dr. Hotchand Gurbuxani too. It was irony of fate, that although Gurbuxani was a Ph.D. from London, he was denied the post of Principal of D.J. Sindh College, Karachi, and instead Mr. Narain Butani was appointed after Mr. Shahani and Gurbuxani was given the deanship of Arts faculty. It created bad blood between Gurbuxani and Butani. The college was in disarray and Prin. Butani, in order to rectify it, called for a meeting of the teaching staff where he put this question before them as to what ails the prestigious institution of D.J. Sindh College. To which, Ram Panjwani bluntly told him, that the groupism was solely responsible for the sorry state of affairs. He, himself was apprehensive of his employment as each one of the teaching staff was affiliated to one or the other camp and he being a neutral person feared that the sword of Damocles hanging over their head may fall on him any fateful day. He said, "You yourself and Dr. Gurbuxani are responsible for all these problems. I don't know, when, I am going to be sacrificed at the altar of egos of you two people and everyone of us is trying to take shelter within one group or another".
It looked as if the obituary of Panjwani was about to be written, but Prin. Butani being a kind hearted person liked his foresight and rather patted him on the back and declared that henceforth they would be friends forever.
Once, Dr. Gurbuxani wanted to stage a play 'Neki Badi' written by Mirza Qalich Beg, in the college but Panjwani insisted on any play based on the heroines of Shah Latif which pleased Dr. Gurbuxani most. He insisted that Panjwani himself write the play 'Moomal Rano' which was later completed with dialogues and songs within three days.The play was duly staged at the Frere Hall and proved to be a huge success. The play was also published and someone opined, that Lalchand Amardinomal Jagtiani should write down its foreword, to which Dr. Gurbuxani himself offered to write it down. Panjwani felt highly indebted to Gurbuxani's goodwill gesture. The forward included a sentence, which is reproduced here-in-below:
"God bestows all of artistic abilities on very few people and I can very well claim that Ram Panjwani has entitled him to be counted as among them by writing such a nice play of 'Moomal Rano'."
Still India was not free from the shackles of British Empire, as Panjwani had come to Bombay and stayed at 'Gyan Ghar', Khar. Mahatma Gandhi had also come to that house in the car of Dada Gyanchand Motwani. Gyanchand requested Panjwani to sing a song as Mahatma Gandhi had himself wanted to hear him. Panjwani sang:
"Moorkh Man Mat Bhool, Bachpan Toone Khel Mein Khoya Aur Jawani Neend Mein Soya Ab Yeh Burhapa Kaise Roya, Rona Hai Fuzool Moorkh Man Mat Bhool…."
Mahatma let out a big guffaw and said, if bachpan and jawani had left them, they could enjoy their old age the most as only that was left with them. He also invited Motwani to come to Juhu and bring Panjwani along with him. There, Mahatma advised him to sing in his own mother-tongue. Mahatma said, "You sang in Hindi at Gyan Ghar and probably you would sing here also in Hindi but it would be better if you sing in Sindhi, as everyone should have love for his mother-tongue. Children should get education in their own language. Though, I write in many languages but I think only in my mother-tongue."
This episode changed Panjwani and he dedicated the rest of his life in the service of Sindhi, his mother-tongue.
"On October 6th 1947, I landed in Bombay with a princely sum of Rs. 400/- and two bags," he says. "My mother had carefully packed my Law Degree and other documents relating to my academic qualifications knowing they would be my most valuable wealth after we migrated from Pakistan. And had those documents not been safe, I may not have been able to take up the legal profession at that time." Today, Ram Panjwani has the distinction of having the largest number of reported cases in the law magazine All India Reporter, as compared to any other Sindhi lawyer in India.
As a lawyer he always fought for the weaker sections in the society and it was his sustained contention that bonus was a right for the workers and not a gift. The Capitalists used to insist that Bonus is an ex-gratia payment to the workers. This was opposed by the Sindhi Lawyer and Bonus is now awarded as a matter of right recognized by law. This became a settled law in the matter of the workers of the Bhopal Textile Mills owned by powerful textile baron Jwala Prasad Shrivastav of Kanpur. This has today become the rule of the industry all over the globe. In 1952, he represented the Sindhi Community in a peace delegation to China and again in 1953 he represented the Community as a youth leader in a delegation to Romania.
Sindh has given birth to many singers and saints who, by principle and practice, guided the community into a fruitful and pious living. Many poets and singers have shared their joys and sorrows with the masses; many orators have kept the audience spellbound; however Prof. Ram Panjwani has been something more – blessed with remarkable talents in the field of poetry, singing and writing, he was an epitome in himself. He was an orator beyond comparison, well versed in Persian, Hindi, English, Urdu and Punjabi, besides his native Sindhi. Prof. Panjwani was a scholar among scholars. Rarely has nature bestowed so many of her gifts on one person. No wonder people often say that providence had been indulgent to him. He labored with the dedication of a reformer and worked with the devotion of an educationist. Prof. Panjwani was not an individual but an institution in himself.
Apart from being a great writer, Prof. Panjwani's uniqueness lies in the fact that he was a great singer and a man of a generous heart. With his serene voice, he has charmed many a generations and with his noble heart he has helped a great many displaced and poor persons. He won appreciation and applause of the entire community for his innate qualities of the head and heart. He enjoys a unique place in the hearts of all Sindhis across the globe, and this is due to the tireless efforts he undertook while making it possible for all members of the community to rediscover their cultural identity. Ram Panjwani's name has become a household name in all Sindhi families. He is respected and loved for the sincere purpose he pursued in life while his amiable nature reflects the essential goodness of the heart.
Many Sindhi describe him as the 'Rose in the garden of India.' His versatile writings have left an indelible mark on Sindhi literature. He wrote a number of poems, plays, short stories, novels, and essays – in fact there in no stream of literature, which has not gained from his illustrious performance as an author. It was in recognition of this, fact that, he was awarded the prestigious Sahitya Akademi Award in 1964 for his work in Anokha Azmooda. Recognising Prof. Panjwani's individual greatness in the field of Sindhi literature and language and his countless services to his brethren and country, the Government of India bestowed him the coveted honour of 'PADAMSHREE' in the year 1981, the only Sindhi poet and author to have won this distinction.
Suddenly, there was Partition and Ram Panjwani had to come to Bombay. Mr. T.M. Advani, Prof. T.G. Khubchandani, Nihchaldas Himatsingh and Ram Panjwani were of the view, that Sindhis should have their own college in Bombay. Keeping this in mind, they approached Mr. B.G. Kher, the then Chief Minister of Bombay with a request to have a plot at Marine Drive to erect a college for Sindhis. Mr. Morarji Desai, the then Revenue Minister had some reservations against Sindhis and he flatly refused to accede to their request. Sometime after that, Morarjibhai fell ill and these very Sindhi people went upto him enquiring about his well being, which left Mr. Morarji Desai highly impressed and when he recovered he immediately ordered for the allotment of a plot at Marine Drive for a college for Sindhis.. A befitting college was constructed on the site which is presently known as Jai Hind College.
Ever since he arrive in India after the partition, he tried to weld the Sindhi community into an integrated whole and to graft it on the parent body of India. This was the dream that upheld him through his early struggles. As a result of his untiring efforts the Sindhi language was listed into the eighth schedule of the Indian Constitution. He was instrumental in paving the way for the preservation and progress of Sindhi literature and culture. He ceaselessly and tirelessly propagated all that is best in Sindhi Sufi thought and the Indian philosophy of unity in diversity and of universal brotherhood.
Prof. Panjwani had the unique gift of attracting the young and old alike; and he was at ease everywhere; always his own inimitable self, whether with the mighty or the susceptible. He could charm an audience and hold it spellbound for hours with his enchanting melodies and witty anecdotes spiced with couplets from Sindhi, Urdu and Persian poetry. In his writings, he always lashed out at the evils that infect society. He was a true devotee of culture and during his lifetime set up a centre for the maintenance, preservation, and promotion of folk culture and art of all the regions in India. He established the cultural centre 'Sita Sindhu Bhavan.' This was the dream that upheld him through his early days of struggle. This cultural centre now stands as a monument to the old adage – the dreams of today and the realities of tomorrow.
It has been said that some are born great; others achieve greatness while greatness is thrust on even others. But this dictum is not applicable to Prof. Panjwani. In the words of H. K. Sajnani, "He was not born great; he was born to simple unsophisticated parents. He has done nothing to achieve greatness. All that he has done is to be himself, to live in conformity with the inner urge within him. And greatness has not been thrust on him. It has come to him, stealthily, unobtrusively like twilight illuminating and strengthening the dawn of another day. Prof. Panjwani is great because he was himself; simple, austere, dedicated to the services of his community and of people in general, a bringer of hope to the hopeless, courage to those who cower in the darkness of their misery and succor to those whom society has ignored. The entire community owes a great deal to this man.
He was many things to many people, writer, poet, teacher, dramatist, musician and linguist but to himself he was only one thing. A man, albeit a man who has loved in life and lived in love. Early in his life he learnt the art of living and loving. He understood that a full life no matter how short its duration is after all the essence of completeness. Thankfully, Professor Ram Panjwani imparted this art to three of his following generations. That is how tradition lives. Passing it on.
Once, Balraj Sahni, the well known film actor opined at a public function in Ulhasnagar, that Sindhis should promote their mother-tongue and Ram Panjwani was more than willing to work towards this objective. He used to roam the length & breadth of India and present plays & songs in Sindhi to raise the spirit of Sindhis, who had to face the hardships of migration and rehabilitation in alien lands. His efforts inspired others too, as there was literally a mushrooming of Sindhi drama companies which led to the firm footing of Sindhi drama in India.
Ram Panjwani was a common factor in literally each & every Sindhi film produced in India. He was not only responsible for writing and singing, but he even acted in many of them. To name a few, there was Ekta, Abana, Bhagat Kanwar Ram, Jhulelal, Ladli, Sindhu-a-je Kinare and HoJa malo. Ram Panjwani was also bestowed with Central Govt's Sahitya Akademi Award for his book 'Anokha Azmooda' in 1964. He had been the Head of Department of Sindhi at Jai Hind College since its inception. When the University of Bombay established its Sindhi Department in 1974, its first Reader & Head was also Ram Panjwani from which post he retired in 1976.
He had cordial relations with many personalities of Bombay filmdom. Once, he received a phone and the person at the other side of the line said, "Ram Sahib, I'm Rafi!"
"I know only one Rafi!"
"You are right. Its me. I have a request for you!"
"I am all ears."
"I want to cut a Sindhi record, provided you direct me."
"I dare not, but I would love to serve you!"
"If you accede to my request, I can convey it to the music company Polydor"
Panjwani immediately replied in the affirmative. At the time of recording, Rafi received Panjwani with utmost respect and told him that Sindhi poetry represented the message of sufis & saints and he wanted to propagate the same throughout India. When Panjwani told him about some of the typical voices of Sindhi language, Rafi replied that he would give it a try and at least it would provide the young Sindhis an impetus to speak Sindhi, even if it was not perfect as he knew it very well that young generation of Sindhis avoided speaking Sindhi. An L.P. containing eight Sindhi songs was recorded after a grueling exercise. When Panjwani complimented him on its completion, the latter replied "It was all due to your blessings!" Think of it, a world renowned sangeet samrat, the only Mohd. Rafi had the guts to acknowledge the best wishes and hardwork of Dada Panjwani but alas he didn't live much as that humble worshipper of God immediately left this mortal world for good as if he just wished to complete that Sindhi L.P.
The name RAM PANJWANI takes every Sindhi down memory lane reminding one of the late folk singer and Bombay University Professor who had become the most inspiring cult leader of the community during his times. However the legendary name is also modestly shared by yet another titan of the community who is a well known Supreme Court Lawyer. The Supreme Court Lawyer, who has been recently appointed to the coveted post of the Vice Chairman of the National Council for Promotion of Sindhi Language (NCPSL) unfolds all about his life and plans for the community to SINDHISHAAN in an exclusive interview at his plush Delhi residence.
On 1st December 1976, a Collegium of 18 Supreme Court Judges considered and approved his name to be designated Senior Advocate. He was the first Sindhi of independent India to be so designated by the top Indian court. Taking a potshot at the US and western world, he says there is a lot of bias against the Indians. Indian Lawyers are not allowed to practise there and they have to study there again before they get a license to practise law. The Indian Government is doing just right by refusing foreign Law firms' entry into the Indian legal system in return, says the octogenarian NCPSL Vice Chairman.
The NCPSL is a body set up by the Union Government to promote the Sindhi Language and keep the Sindhi culture alive, particularly in the times of globalization and the diminishing use of Sindhi language by the new generation of the community. He expresses his disappointment at the lack of the previous Council members to utilize the funds allocated by the Central Government. Merely holding closed door seminars, reading a few poems on those occasions and not being able to reach out to the masses is what had been the trend of the past NCPSL members.
The new captain Ram Panjwani has already put his legal acumen and seriousness to work for the cause of the community. Due to his efforts the Government doubled the earlier budget of NCPSL from 1 crore to 2 crores on 26th February 2008. A compilation of popular Sindhi thirteen short stories titled Registani Phool authored by Jaffar Belddar is top on his agenda.
The NCPSL wants every Sindhi on this planet to feel a sense of pride in being a Sindhi. The Community's declining interest in the Sindhi language and culture is causing concern to several community leaders. NCPSL is planning to immediately publish three basic books in an effort to meet the Herculean challenge of promoting the language. The books will be about "What a Sindhi Means?" from the word Sindhu evolved the word Sindhi and it was on the banks of the Sindhu where the Rigvedas were authored. The Sindhu is the mother river even to the mighty Indian River Ganga. Very few people know that the Rigved was written on the banks of Sindhu, he laments.
The second book he has shortlisted for mass publication is Kadimi Sindh, which has been authored by Behroomal Meherchand Advani. Behroomal Advani who passed away in Mumbai in 1953 has given the copy rights for the 450 page book to the Sindhi Sahitya Academy. And the third book NCPSL wants printed immediately is Charchnama, written by Gobind Khushalani. It is sad that the community does not encourage the writers and authors. They are not paid adequately nor do they get social status or incentives to further their passionate cause towards the community.
Finally the NCPSL Vice Chairman Ram Panjwani makes an appeal to the Sindhi Community to come forward and send in their suggestions and ideas to help keep the Sindhi language and culture alive.
Prof. Panjwani was a prolific writer. He had tried his hand in almost all the genres of literature – novel, short story, drama, essay, poetry, travelogue, etc. He also wrote scripts for Sindhi films, lent his voice for songs, as well acted as the main role with distinction.
He was also a performing artist of very high caliber, an inspiring singer and able portrayer of Sindhi folklore, a masterly exponent of Sindhi Culture that goes by the name of Sindhyat. On stage Prof. Panjwani was a phenomenon to be believed. He would keep his listeners spellbound for hours. He sang to inspire his audience to enthuse them. He infused hope and faith in dropping hearts of Sindhi Community in post partition era. The Sindhi Community owes a great deal to Prof. Panjwani. He has rallied them together in all parts of the world around the Community deity-Jhulelal and has given them a slogan which has unified them "Jeko Chavando Jhulelal – Tahinja Thinda Bera Par" (He who will utter the name of Jhulelal will find salvation).
Prof. Panjwani used to sing on the rhythm of the Matka (the earthen pot) which he played with dexterity. Pandit Jawaharlal Nehru had nicknamed him as "Matkewala Professor". Appreciating his singing and dancing, the audience poured thousand of rupees in his Matka but he distributed it for charitable causes, which included Building of Jai Hind College and Seeta Sindhu Bhawan, a cultural centre founded by him at Santacruz. In recognition of his service for preservation and promotion of Sindhi Language and culture, Govt. of India bestowed the honour of Padam Shri to him in 1981. He was also the recipient of Sahitya Academy Award for his book "Anokha Azmooda" in 1964.
He was born on 20.11.1911 at Larkana (Sindh) and breathed his last on 31.03.197 at Mumbai. He was the pioneer of "Cheti Chand" celebrations in India and attended many functions till the end in spite of his failing health, before closing his eyes. The demise of his father figure was deeply mourned by Sindhis all over the world.
To sum up about Dada Ram Panjwani as a person, it would be sufficient to say that he played the role of a rosary joining every section of Sindhi community. In the twilight of his life, when even his health didn't permit him to come to different shows, he continued with his work of propagating Sindhi music & poetry through various cultural and literary meets. At last, on the fateful day of March 31, 1987, he bade us goodbye and became one with the Creator.
Dada Ram Panjwani wanted to make Sita Sindhu Bhavan, the epicentre of Indian Sindhis, but alas he couldn't see it flourishing in his lifetime. His death was mourned by various dignitaries, like the then President of India, Giani Zail Singh, Prime Minister Rajeev Gandhi, Swami Gangeshwar Anand, Dada Jashan Vaswani, Swami Shanti Prakash, Swami Ganeshdas, to name a few!