Shri Tikamdas Bhojraj Purswani
President, Social & Political Activist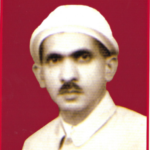 Author : Rtn. Gangaram S. Purswani (P.H.F.)
Shri Tikamdas Bhojraj Purswani was born in 1903. He took active part in Quit India Movement, burnt his and his wife's foreign clothes and was held in detention for a few days on several occasions. He also was the member of Arya Samaj, very social and active in Puj Panchayat affairs. August 15, 1947 has two facet, first of joy & happiness for freedom from English rulers and second of pain & grief for those Hindus who migrated from Pakistan to India, especially Sindhis whose land Sindh was totally snatched away from them. Little they knew that taking active part in the Quit India Movement during the freedom fight against the foreign rule will turn out to be the refugees in their own country. Sindhi Hindus to save their sacred religion, abandon their ancestral homes and valuable possessions. It was the tragic saga of suffering with dreadful, moral, mental and economic predicament of a peace loving Sindhi Community, who landed into very unknown territory, unknown culture and unknown language. Where to settle?
Shri Tikamdas left Hyderabad Sindh along with his joint family and families of his two sisters. He also lends his hand to take his lady tenant with a grown up daughter and a minor son (Her husband was in Indonesia). All crossed the Khokhrapar railway station to Indian side by train. He rented a small house in Barmer (Rajasthan), settled temporary all the members there and went to locate his childhood friend Shri Durga Prasad (Jarat Artisan) in Jaipur, with whom he had met and had spent a few nights in his residence at the age of 26 years in 1929, during the course of pilgrimage to Hardwar, along with his parents and uncles.
By coincidence, he was able to locate in one of the streets of Chandple Bazar, and introduced himself by reminding him in which room they had slept in the night and the location of kitchen where they had eaten food together. Shri Durga Prasad remembered and embraced Shri Tikamdas emotionally. Shri Durga Prasad assisted to get a very huge bunglow in Residency Area near Raj Mahal Palace Hotel. At that time, this area and the C-Scheme was like a small forest. Shri Tikamdas brought all the members from Barmer to Jaipur. On the way, at Ajmer station, he met Shri Jethanand Chuharmal Purswani with his family and persuaded him to go to Jaipur along with him. All the families stayed in same Bunglow. Later shifted to three story building in Gopalji ka Rasta.
Immediately, he started writing to our community members who were still in Pakistan and to those migrated to other cities of India to come to Jaipur, because there was peace and cost of living very cheap. Again Shri Durga Prasad helped and introduced a lawyer Shri Devi Lal Bhargava (the father of Shri Girdhari Lal Bhargava, Member of Lok Sabha). All in coming community members used to gather at his residence and Shri Devi Lal used to help them get a rented place for them on his personal guarantee. In this way, more than 50% of our community families settled in Jaipur with the selfless services of Shri Tikamdas.
In this way, by mid 1948, more than 50% of our community families settled in their houses in Jaipur with selfless services of Shri Tikamdas Bhojraj Purswani except a few very poor families, who were in refugee's camps in Amer and Durgapura. It was grave concern to solve their problems. At that time, many other non sonara sindhi community families acquired a Nawab Ki Haveli (behind Tripolia Bazar) in Vidhyadhar ka Rasta. They started selling room by room to get some money for their livelihood Shri Tikamdas and Shri Jhamandas Fatumal Purswani together paid Rs. 1000/- (very big amount at that time) for seven rooms and settled all those who were in refugee camps.
Shri Tikamdas Bhojraj Purswani had never been after Puj Panchayat official post. When he was forced to get elected unanimously as the President of Puj Khudabadi Sonara Panchayat, Jaipur, for the years 1955-56 (2 years), he frankly informed the general body that he was full of defects and errors in his nature and habits. He was again elected as a president for term of three years (1967-69) and worked very hard for the betterment of the community. During Akhil Bharat Sonara Samelan in the year 1974 at the age of 71 years, he physically served the food etc. to all the guest. Shri Naraindas Soni was so much impressed by his hospitality that wrote in his editorial in "Jog Maya", his especial appreciation for Shri Tikamdas Bhojraj Purswani. He was Founding President of Khudabadi Sonara Association, Jaipur (from 08/04/1958 to 27/09/1959).
He completed his life journey and left for heavenly abode in 1983. We Pray Almighty may rest his soul in eternal peace.