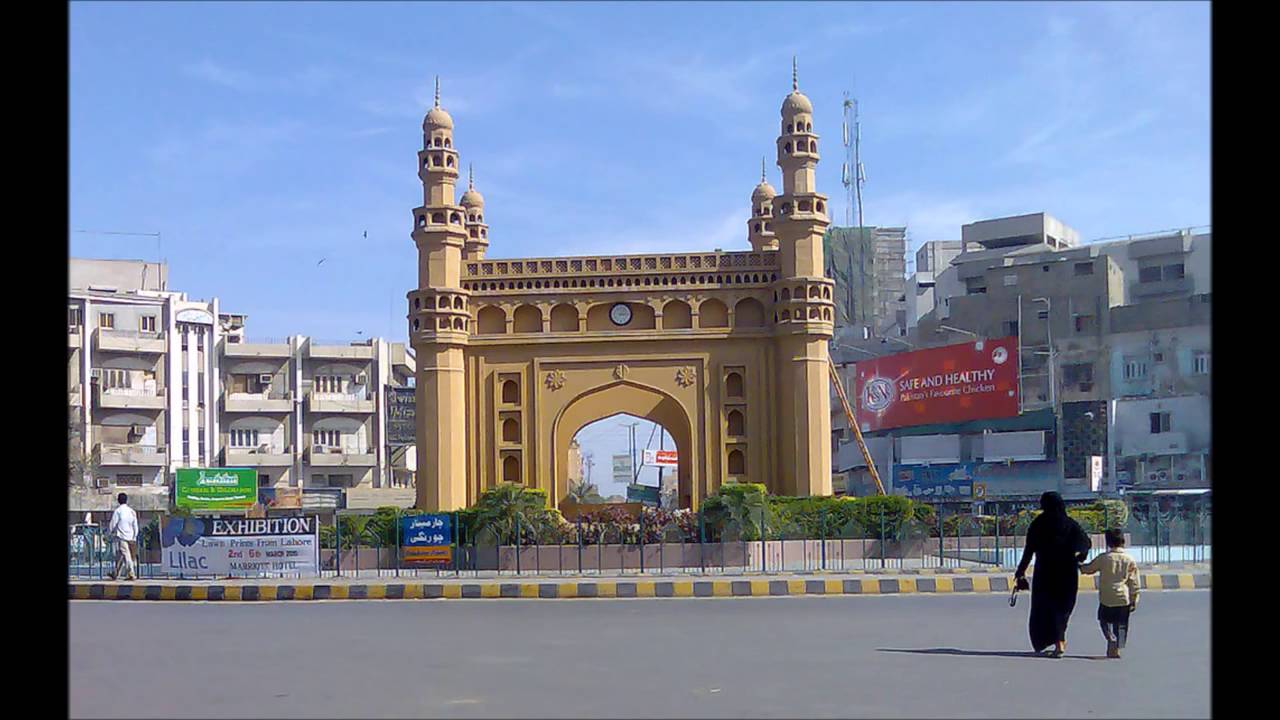 Compiled By: Rtn. Gangaram Shamdas Purswani (P.H.F.)
Hyderabad was originally a small fishing village of Mauryan time known as Nayrun Kot and was ruled by a Hindu King Nayrun. Under his rule, this small fishing village thrived upon the banks of the mighty Sindhu River. There was a Temple of Kali (Goddess Durga) on a nearby hill tract, called the Ganjo Takker or Bald (barren) Hill, whose ridge lay on a low limestone range. The temple was used as a place of worship by a most adherent religious priest that blessed the city believing his meditation would result in excellent trade networks of Nayrun city, which was developing at that time. But these particular popularity traits in the areas of trade led the city vulnerable to outside sieges. In the year 711 A.D. Muhammad Bin Qasim attacked the town and the locals equipped mostly with farming equipments, surrendered. King Nayrun was dethroned. The army of Mohammad Bin Qasim looted the trade goods, in abundance and took over the Hindu worship sites, atop the Ganjo Takker ridge. The Nayrun Kot was destroyed. (The compiler of this article had visited the Temple of Kali in the year 1945, at the age of five)
In the year 1768, Miya Ghulam Shah Kalhora planned to reconstruct and revive the city of Hyderabad (Nayrun Kot) as his Capital. He decided to build a new fort at its site and deputed Diwan Gidumal Gidwani, for the task. Diwan Gidumal with two boat loads of money, landed at Kotri (a village opp. Giddu Bunder, at Hyderabad) on the bank of Sindhu River, and on the other bank, he set up a camp for his crew. This camp came to be known as Gidu Jo Tando, now called Giddu-Bunder. (Late Shree Thakurdas Tirthdas Hingorani, past president of Puj Khudabadi Sonara Panchayat and founder chairman of Khudabadi Sonara Ass. Trust, was born at Giddu-Bunder, in year 1899 and therefore was also known as Shree Gidomal Tirthdas Hingorani in Khudabadi Sonara Community) Diwan Gidumal constructed two forts (Qilo), made of earthen material. Miya Ghulam Shah Kalhora would visit Hyderabad from time to time to supervise and would stay at Kacho Qilo. In the year 1770, the construction of Pako Qilo was completed. Miya Ghulam Shah Kalhora donated Kacho Qilo to Shah Makai's Dargah.
Trustees of Shah Makai's Dargah acknowledge that during the days of Raja Naryn, Hazrat Ali and Shah Makai had visited Hyderabad. Foot prints of Hazrat Ali are preserved in the Dargah called "Qadam Shah" situated at the foot of Qila Chari. Hazrat Ali was also known as "Hyder" and therefore, Miya Gulum Shah changed the name of "Nayrun Kot" to "Hyderabad" to honour the Memory and Visit of Hazrat Ali. The city was then sparingly inhabited as Miya Ghulam Shah had yet to shift to live there. However, he did not live to enjoy its comforts. Miya Gulam Shah Kalhora expired in the year 1771 and was buried at Hyderabad.
As indicated above, after the defeat of Kalhora and over flown of River Sindhu, Mir Fateh Ali Khan (Talpur) left his capital Khudabad and made Hyderabad as his capital, in 1789. Great celebrations were held in 1792 A.D. to mark his formal entry in Hyderabad fort. He made the glorious Pako Qilo his residence, which was spread over thirty six acres and used to hold his courts there. The change of capital no doubt induced a large number of the population of Khudabad to migrate to Hyderabad, the new seat of royalty. The Sonaras, Amils and Bahibands who had lived and worked in Khudabad, felt honoured to have shifted to Hyderabad with the Rulers and retained the term Khudabadi in the names of their communities as an identifier of the origin and called themselves "Khudabadi Sonara", "Khudabadi Amil" and "Khudabadi Bhaiband". By the year 1800, the majority of the Khudabadi Sonara community living in other parts of the Sindh had migrated to Hyderabad.
After some time, Mir Fateh Ali Khan (Talpur) accompanied by Diwan Gidumal came to Hyderabad. Diwan Gidumal then occupied an empty plot of land near Juman Shah Jo Pirru. Bhaibands and Khudabadi Sonaras settled in the area from Juman Shah Jo Pirru to Chhotki Bazar. Amils settled in the area from Chhotki Bazar to Sree Ghat. A Street there was named and called Gidwani Ghitti in the honour of Diwan Gidumal Gidwani. The ancestor of Gangaram Shamdas Purswani had lived in Gidwani Ghitti, even after their family spilt-1910. Later, his grand father Late Shri Bhojraj Purswani shifted to live in a rented house on a hill top, at Qila Chari (also known as Hill Top Chari). West Kacho and Das Garden/Home Stead Hall Garden were also very near to that place. In the year 1945, he bought his own sweet home at "Thore Chari" and lived there till partition. His shop of Gold Smith was located at "Loung Bhagat Ji Ghiti, off Shahi Bazar, opposite to a mosque.
The workshop of the Talpurs court had highly skilled goldsmith and enamellers from Khudabadi Sonara Community, who had immaculate the floral decorations with diamonds and enameled art work over a gold back ground of the weapons of most of Talpur Royal Family, for which they were awarded many times. At the fall of Talpur rule, many of their arms were dispersed and found their way into European museums.
The Khudabadi Sonara Community excelled in their traditional occupation of fabricating Gold Ornaments & Jewelry, after settling in Hyderabad. The Amil means Amal (Hukum ka Amal Karo) and the Kamora means Kam-Wala, both communities generally pursued higher education and get engaged in government civil service. Diwan means Div (To shine, sparkle); they dress in their Official attire when attending Ruler's Court and were usually engaged by the Government as Revenue Collectors. Bhaibands became involved in trading and commerce. Khudabadi Sonara Community, Bhaiband and Amil jointly contributed to the growth and glory of Hyderabad.
The strong fort, the rulers and their army, all provided a feeling of peace and security in Hyderabad and the town soon started to grow and flourish slumping Khudabad, Nasarpur and other trade and commercial centers into oblivion. Artesian, Craftsmen, Workers, Traders and Intellectuals from far and wide started to migrate and settle there. The locality where carpenters settled became known as Wadhan Jo Pirru, the vicinity of barbers became known as Nain Jo Pirru, the street of dyers became famous as Khunbhati Ghitti and the settlement of the nail makers was called as "Naal Bandan Jo Pirru". There was also Resham Ghitti (Silk Lane); where the ladies would visit for window shopping. Apart from above there were famous Home Stead Hall, Das Garden (Rani Bagh), Mian Fakir Jo Pirru, Phuleli and a road to Giddu Bunder called Thadhi Sadak or Cool Street, owing to the presence of numerous shade trees. Population grew and to provide more space, Navabad was developed in the year 1875 and twenty years later, Hirabad was developed. Those were barren lands earlier.
The most striking feature of Hyderabad was its peculiar skyline dominated by wind-catchers. These wind catchers (Manghu in Sindhi) were fixed on housetops, to catch the southwesterly breeze in the hot summer days and evenings. The breeze entering the wind-catchers would penetrate into the room and keep it cool. Due to numerous wind catchers, Hyderabad became famous as Manghan Jo Shaharu or city of wind catchers. It is very interesting to know that the Hyderabad City was built on three hillocks cascading over each other and Pako Qilo was built on one of the three hills of Hyderabad. Further, the city bazaars of Hyderabad were designed to be in a straight line with no curves, as the bazaars of Khudabad.
The British came face to face with Talpurs at the battle of Miani on February 17, 1843. It is said that even in rigor mortis, the Mirs held their swords high, fighting the British. The battle ended on March 24, 1843, where the last Talpur ruler, Mir Muhammad Naseer Khan Talpur lost to British General Sir Charles Napier and the city came into the hands of British East India Company. Being the last stronghold in the way of British, the city once conquered, completed the British Conquest of Sindh. The crown of being a capital of the emirate of Sindh was transferred to Karachi. But the Hyderabad remained the commercial capital of Sindh. Till 1901, the Hinduism was the most dominant ethnic religion in Hyderabad City.
In earlier period of Talpur's rule, the main sources of overseas transportation were ships navigating Indus River and camels cruising deserts. In the year 1835, the British East India Co. established "The Indus System Navigation Company" and later, in the year 1869, the Suez Canal came into existence. These developments had a large effect on commercial trade in India, sparking demand for quality handicrafts for export. As a result, the Khudabadi Sonara Community was able to greatly expand their business throughout the world. They travelled, not only with gold, silver & enameled jewelry, but also carried dyed leather & leather items, blue dyes, spices, embedded bronze items, turbans, caps, shawls and cloth made from Susi & khes. They also exported glazed ceramic and lacquered jandi wood vases from Halla, carpets from Bubak & Thatta, ivory from Matiari, jam & rice stuff from Tando Muhammad Khan, steel knives & grass cutters from Malti, horses saddles from Khadro, bed sheets from Naoshehro & Tharo to Malta, Gibraltar, Cairo, Khartoum, Kuwait, Muscat, Aden and Gulf in the west, Central Asia in the north and Hongkong, Thailand, Malaysia, Japan, Indonesia and Philippines in the east. The proceeds of sales were always in Gold Coins and Ashrafies, which increased the capital input of community business of gold smith, within a few decades. As a result, the Khudabadi Sonara Community were able to greatly expand their business with gold and silver jewelry exported throughout the world, and even displayed their gold, silver and enamel products in famous Great Exhibition 1851 (also known as Crystal Palace Exhibition) at Hyde Park, London.
During this period many Khudabadi Sonaras also migrated overseas. The names Sindhwarki and Sindhwork were born, then. Those who were going to foreign lands were called Sindhwarkis (means gold foil of Sindh) and the foreign lands were called Sindhwork. Late Shree Jeumal Purswani (grand father of Gangaram Shamdas Purswani) was first among Khudabadi Sonara Community, who establish his own business known as "Bombay Bazar" in Manila, Phillipines, in the year 1911. Khudabadi Sonara migration to overseas accelerated during this period, with the result, in modern era nearly every Khudabadi Sonara family has a member living in foreign lands (Sindhwark)